Pricing
Choose the plan that suits you
Try Convertize Starter plan FREE for 14 days • Change plans at any time • No credit card required
Save 17% with annual billing
free
10 000 visitors per month

A/B Testing & Split Testing
30 Persuasion Tactics
Dynamic Text Replacement
Geolocalized Messages
Convertize Branding
starter
30 000 visitors per month

A/B Testing & Split Testing
100 Persuasion Tactics
Dynamic Text Replacement
Geolocalized Messages
Persuasive Notifications

We use your site's real-time data to create notifications that attract your users' attention and persuade them to act.

No Branding
team
100 000 visitors per month

A/B Testing & Split Testing
250 Persuasion Tactics
Dynamic Text Replacement
Geolocalized Messages
Persuasive Notifications

We use your site's real-time data to create notifications that attract your users' attention and persuade them to act.

No Branding
enterprise
300 000 visitors per month

A/B Testing & Split Testing
250 Persuasion Tactics
Dynamic Text Replacement
Geolocalized Messages
Persuasive Notifications

We use your site's real-time data to create notifications that attract your users' attention and persuade them to act.

No Branding
Non-profit? Contact us for special pricing
SmartEditor™
It is very easy to optimise your website using our 6-step process to create experiments, and to then directly see your modifications. No prior knowledge in coding is expected
SmartPlugins™
Simply drag & drop the SmartPlugins to add persuasive notifications, geolocation or dynamic content that will urge your user to complete a conversion.
Unlimited projects & collaborators
Create as many projects and experiments as you would like, and invite collaborators to participate.
AB testing
Prefer to do some AB tests before implementing an optimisation? You can do it in a few clicks. The platform will then automatically allocate the traffic, tailored to your requirements.
Persuasion Tactics
Not sure where to start? Convertize can help, thanks to more than 250 tactics adapted to all types of websites and their specific pages. Depending on which plan you choose, between 30 and more than 250 tactics are available at your fingertips.
Platform Support
If you have any questions regarding the implementation, AB testing, billing, or simply need help when creating an experiment, please chat with us, we are here to help.
Website Integration
You can use Convertize with any website and popular content management system like Wordpress, Shopify, Magento. You can also use Google Tag manager to install Convertize.
Targeting & Segmentation
Want to perform more specific testing? You can do so by targeting according to device type, geolocation, new vs returning users...
Coaching on-demand possibilities
As conversion optimisation is our expertise, we also provide online coaching services to help you learn how to best optimise your website. This service is available for an extra fee.
All Convertize plans offer easy integration
with the tools you're already using.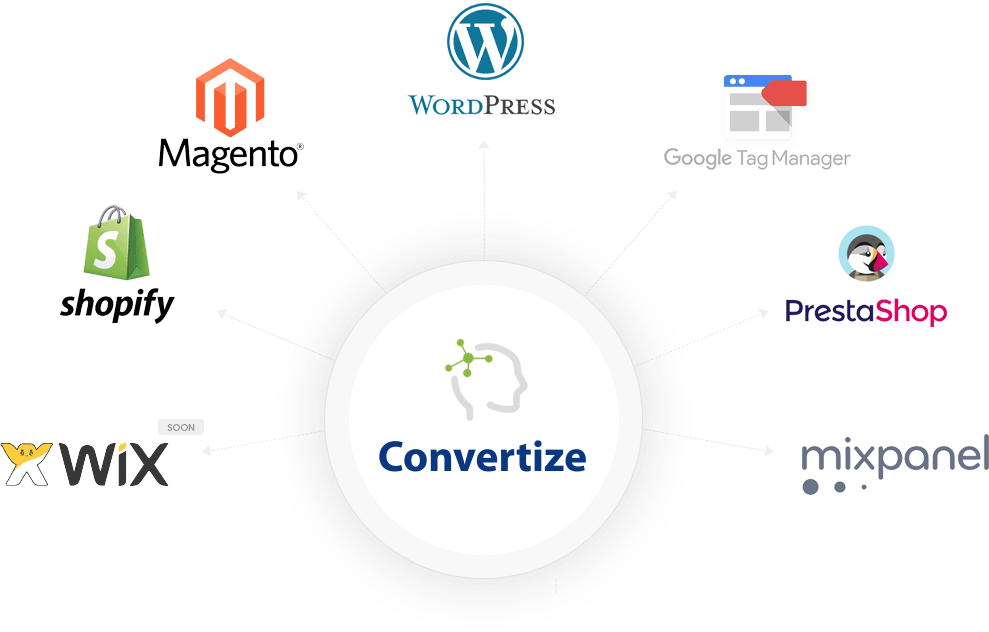 Unsure what plan suits you best?
We are here to help you find the right plan for your business. You can reach out to us anytime !
Chat with us
Book a demo
inbound@convertize.com
See what Convertize can do for your business.
Compare the features for our different plans.
Free
Starter
Team
Enterprise
Number Of Websites
Unlimited
Unlimited
Unlimited
Unlimited
Number Of Clients
Unlimited
Unlimited
Unlimited
Unlimited
Number Of Collaborators
Unlimited
Unlimited
Unlimited
Unlimited
Number of visitors per month
10 000
30 000
100 000
300 000
Persuasion Tactics
30
100
250
250
6-Step Structured Process
Traffic Allocation Per Convertize
Tests On Protected Pages (Behind Login)
Device Targeting (Mobile, Tablet, Desktop)
New vs. Returning Visitors
Google Analytics Integration
We want to make Consumer Psychology easily accessible to every online business.
With Convertize, we offer a solution that can improve the profitability of any online marketing campaign.
Analytics tools tell you what visitors have done, but they don't tell you what's missing to convince them to sign up or buy on your website. Read more
Building and testing optimisation hypotheses can be long and complicated work. A/B testing tools often produce complicated data that only statisticians or mathematicians can understand and effectively analyse. Also, these tools increase the risks taken by marketing teams when using incorrect settings or choosing random hypotheses.
Creating Convertize, we have spent a lot of time simplifying things so that marketing teams can grow their revenues more quickly - by directly applying the best persuasion tactics on every page of their website.
For every single tactic, we have analysed and documented the scientific research and consumer psychology behind it. We have also identified the best websites that use these tactics successfully on a daily basis.
Convertize is a unique and ideal solution that compliments any branding or acquisition campaign on networks such as Adwords, Facebook or Outbrain.

Philippe AIME - CEO of Convertize
Frequently Asked Questions